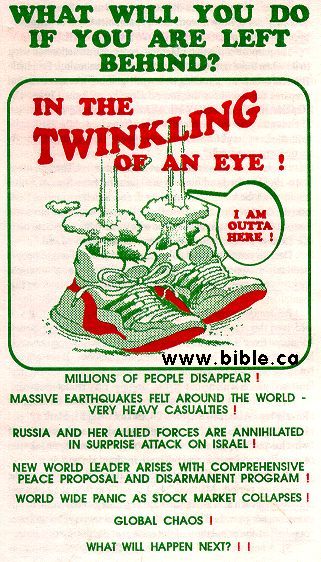 Before I tell you about the current prediction, let me give you a bit of background.
For centuries, there have been folks who've claimed to know when Jesus would come again. In one of the first of these, it was predicted that he would return in 500 A.D; the prophet's prediction was based on the dimensions of Noah's ark. More predictions ensued, but the one predicting the end of the world on January 1, 1000 was one of the most popular. According to
this source
, "During December 999 AD, everyone was on their best behavior; worldly goods were sold and given to the poor, swarms of pilgrims headed east to meet the Lord at Jerusalem, buildings went unrepaired, crops were left unplanted, and criminals were set free from jails". When those hopes were dashed, the anticipated date of the Second Coming was moved forward to 1033 A.D., 1000 years after Christ's crucifixion. A mass pilgrimage to Jerusalem took place, but once again the prophecies didn't come true.
The next major scare was predicted in the Letter of Toledo, written in 1184 by some astronomers in Toledo. They said that a rare astrological phenomenon (the conjunction of the planets in the sign of the Scales and in the tail of the Dragon) would lead to the end of the world in September 1186. There would be wind, storms, drought,famine, pestilence and earthquake. The sky would darken and the hearts of men would be destroyed when hearing a dreadful voice. People sought safety in caves and mountains... but September1186 came and went without incident.
In the early 1500's, a German named Muntzer announced that the Lord would return after Muntzer and his band of peasants destroyed the high and mighty. Muntzer had been promised in a vision that God would catch the enemy's cannonballs in his (God's) sleeve. Apparently Muntzer and the peasants caught the cannonballs, however, and those in the uprising were destroyed. A few years later, Jan Matthys took over the city of Munster after being "informed" that Munster would be the only city spared at the Second Coming, which was soon to come. Matthys' men ejected the inhabitants of Munster, who laid siege to the city in order to reclaim their homes. A year later, all of Matthys' men were dead.
In the early 1800's, a fortune teller named Mary Bateman later predicted the end of the world. She based her prediction on messages found in eggs laid by a magic chicken. Quite a stir resulted... until an unannounced visitor caught Mary trying to stuff an egg into the oviduct of an unfortunate chicken. Ms. Bateman was ultimately executed after poisoning a wealthy client.
A few years after Mary's predictions, a woman named Joanna Southcot announced that she would produce the second Christ by means of virgin birth. Her abdomen began to swell, but before carrying through with her promise, she died. The cause of death was determined to be a false pregnancy.
The Jehovah's Witnesses issued a series of predictions in the early 1900's that the world would end. 1914, 1918, 1920, 1925, 1941, 1975 and 1994 went by, however, without fulfillment of their prophecies.
Retired NASA engineer and author Edgar C. Whisenant wrote a book titled "88 Reasons Why The Rapture Is In 1988". 30,000 copies of the book were mailed to ministers at no charge, and 4.5 million copies were sold. (
I'm embarrassed to say that I was one of the 4.5 million, but I claim youth as an excuse.)
When 1988 became a thing of the past, he revised his prediction a number of times, claiming 1989, 1993, 1994, and 1997 would be the years, but he'd lost credibility by that time and book sales were off. A number of other people predicted the end would come in 1994, but they, too, were proven wrong.
One of the more recent prophecies about the end of the world places the date of the Second Coming at May 21, 2011, leaving us only 155 days before the end. There's even a web site with lots of information substantiating this claim; you can go to
WeCanKnow.com
to read all about it. Free bumper stickers can be obtained through this site as well, so that tailgaters can be forewarned. But be prepared to scrape them off on May 22nd, because the track record for Second Coming predictions isn't all that good. You might prefer to request the free business cards, post cards, and pocket calendars; these won't damage the chrome on your bumpers.
(Hmm... it would be interesting to know if the pocket calendar goes to the end of the year, or stops with the end of time, i.e. May 21, 2011.)
But if that ones falls through, Galaxy Seven from Taiwan has a new prediction: December 12, 2012. The Hopi Indians apparently agree with this date, which is also the last day of the Mayan calendar, so be on the lookout for 12/12/12.
Many of these predictions seem to be derived from interpretation of the book of Revelation which, I confess, is WAY over my head. In my opinion, the most understandable Biblical reference to the end times comes in Matthew 24. Jesus discusses his coming at length, and he concludes with these words:
But about that day or hour no one knows, not even the angels in heaven, nor the Son, but only the Father. - Mt. 24:36
So I'm not giving away all my possessions and climbing a mountain wearing a white robe waiting to be transported to heaven 155 days from now. But I am called to be ready in other ways, every day:
Therefore keep watch, because you do not know on what day your Lord will come. But understand this: If the owner of the house had known at what time of night the thief was coming, he would have kept watch and would not have let his house be broken into. So you also must be ready, because the Son of Man will come at an hour when you do not expect him. - Mt. 24:42-44
_______________________________
Don't forget to head over to Conversion Diary for 7 Quick Takes!